More than ever, today's workforce is reflecting on their current working situation and is considering finding new work – over 40% of American workers in 2021 considered leaving their current jobs. Workplace safety is a large driving force in these decisions as injuries have maintained an annual consistency of about 2.7 million reported incidents in 2020 according to the U.S. Bureau of Labor Statistics. How does a business improve its workplace safety and build a progressive workplace safety culture? It begins with a workplace safety inspection – commonly referred to as a Jobsite Safety Inspection in the construction sector.
What is the Purpose of Workplace Safety Inspections?
Performing walkthroughs and inspections focused on worksite employee safety are important for strengthening your safety program and reducing everything from minor injuries, to fatalities. Not only that, but you'll also be more prepared for external regulatory audits such as your next Occupational Safety and Health Administration (OSHA) inspection.
Implementing regular safety inspections improves your ability to:
Identify present or potential hazards
Uncover the root cause(s) of safety infractions
Listen to the safety concerns of your workforce
Recommend corrective actions
Review the safety controls in place (ie. emergency procedures, safety data sheets, existing safety plan, safety training, etc.)
The Types of Hazards a Workplace Safety Inspection Identifies
There are 6 general categories of workplace hazards that your safety management team should look for during a workplace safety inspection:
Ergonomic Hazards
These hazards occur when a worker is required to exert repetitive movements, work in an awkward position such as confined spaces, and improper lifting and lowering form.
Click here for a free Lifting & Lowering Ergonomic Assessment Checklist to assist during your workplace safety inspection.
Physical Hazards
Hazardous conditions are created by weather, heat, cold, vibration, notice, electricity, and pressure.
Biological Hazards
Unsafe work environments cause by parasites, viruses, bacteria, and other types of organisms
Commonly experienced in the food production industry, consider using your findings in this free Hazard Analysis and Critical Control Point (HACCP) Food Safety Checklist to supplement your Workplace Safety Inspection.
Safety Hazards
Hazards that are developed due to unsafe working conditions, unsafe work practices, inadequate safety training, failed machine guards, and failed Personal Protective Equipment (PPE).
Safety hazard checklists such as the free to download Personal Protective Equipment (PPE) Assessment Checklist are useful tools to gather more precise information during your Workplace Safety Inspection.
Chemical Hazards
Hazards that include a mist, vapor, liquid, solid, fume, or dust.
Psychological Hazards
Hazards that impact the mental health and well-being of your staff such as bullying, stress, or violence.
Performing a Workplace Safety Inspection
Step 1 – Planning & Scheduling
During this step, you'll first want to construct your inspection team. Members to consider should have knowledge and experience in different areas of the work environment. Examples of potential workplace safety inspection members include HR, supervisors, worker representatives, safety committee representatives, and whoever else you deem necessary.
Schedule an inspection at a time that works for your safety inspection team. It's important that all team members can attend and be present for the entire inspection. The frequency of conducting a workplace safety inspection varies based on the unique procedures and complexities of the business. Generally, aim for inspections to occur on a monthly basis.
Step 2 – Preparing
After you've scheduled the next workplace safety inspection, your safety inspection team should review documents and other pieces of information. Items to review include:
Incident report logs that occurred after your last workplace safety inspection
Regulatory safety standards and laws relevant to the inspection
Previous inspection reports
Documented safety procedures
And other information you feel will benefit the inspection process
Step 3 – Inspection & Documentation
Now that your team has been familiarized with the necessary information, build and delegate the inspection routes where they can begin their walkthroughs.
Start by noting general observations of potential or present safety hazards. The first step in this process is to understand the proper work procedures for the task being observed. The next step is to compare those procedures to the actual procedures being followed by the floor staff. We recommend providing online checklists for things like facility safety inspections, job site safety inspections, and warehouse safety inspections so that the inspection team can make accurate observations and compile them immediately.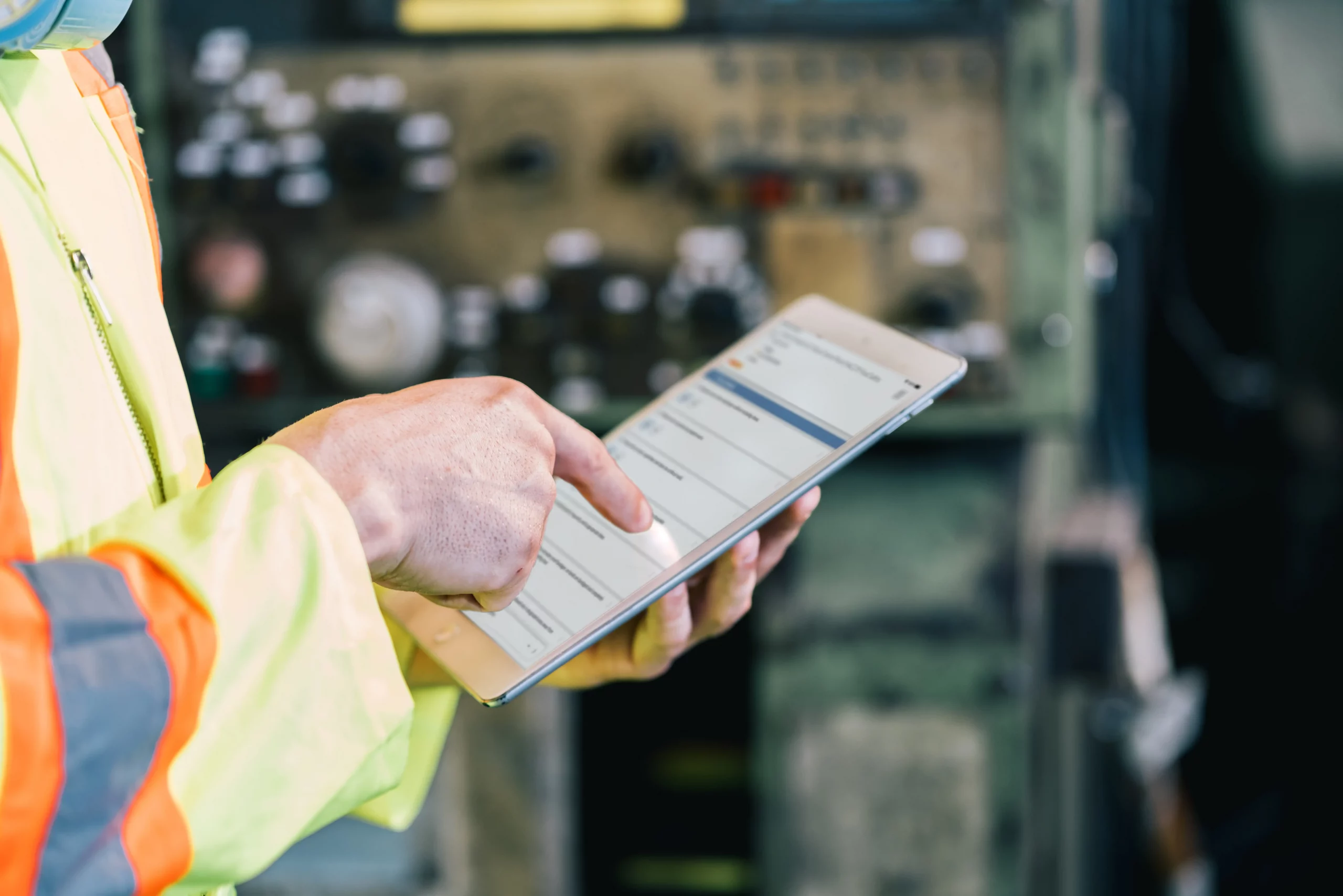 30+ Audit and inspection checklists free for download.
After observations and associated recordings have been made, dedicate time during the inspection phase to talk to the workers and discuss their job tasks. Other points of discussion should include asking whether they follow safe working procedures and if they have any safety concerns. Be sure to also record observations made during these discussions in your workplace safety inspection reports.
Step 4 – Reporting
Under legal obligation, identified hazards need to be rectified immediately by your company. The last step in the workplace safety inspection process is analyzing the inspection reports and developing follow-up corrective actions to eliminate these hazards.
Communicating results to management at this step can be delayed because traditional paper inspection checklists and reports can be time-consuming and less effective at preventing and mitigating safety issues. If it takes a while to collect and organize your inspection team's paper checklists, this could significantly delay your ability to identify and respond to workplace safety hazards.
Online safety inspection software solutions prevent these delays and inaccuracies from impacting your next workplace safety inspection. These solutions will allow you to:
Identify and resolve issues on-the-fly
Collect and report accurate, consistent, and compatible data
You may also be interested in:
Keep it Seen, Keep it Safe: The Importance of Construction Safety Observations
Safety Observation: Five Steps to Reduce Workplace Risk