"Unexpected" is an accurate reflection of the last two years for supply chain operations. Companies with seemingly robust and reliable supply chains found themselves struggling to bolster supply when the pandemic first hit in 2020 — and as noted by Forbes, supply chains in 2022 will continue to struggle with reduced product availability, increased material and shipping prices, and limited labor availability.
The result? Companies need every advantage they can get when it comes to staying ahead of unexpected outcomes. And while there's no bulletproof solution to evolving supply challenges, an in-depth supply chain audit can help reduce the impact of potential changes and help companies prepare for whatever comes next.
What is a Supply Chain Audit?
A supply chain audit is a detailed examination of your supply chain operations to help identify and eliminate potential risks. For example, an audit might include an analysis of your current providers and their ability to fulfill existing orders. You might also examine the historic supply chain performance over the past few weeks or months, or analyze issues related to staffing and labor.
While there's no one-size-fits-all supply chain audit framework, most audits focus on identifying common areas of concern and then developing strategies to mitigate or eliminate these issues. Ideally, supply chain audits should be carried out on a regular basis to help companies develop and implement proactive policies to mitigate overall risk.
Why Audit Suppliers and Your Supply Chain?
Global Supply chains are made up of two broad component parts: The processes that underpin supply operations — such as product production, packaging, shipping, and inventory management — and the suppliers that fulfill your supply chain requests. Both suppliers and the supply chains they support should be part of your audit to help drive end-to-end visibility.
On the supplier end, for example, it's worth looking at their track record in delivering products on time and on budget. The more reliable your suppliers, the better the chance of avoiding significant disruption to operations if pandemic pressures once again increase or governmental regulations shift in response to private or public sector pressures. When it comes to supply chains themselves, diversification is critical to minimize the risk of interruption. This is a lesson learned the hard way at the start of the pandemic for many companies: No matter how reliable a single-source supply chain may be, global pressures during times of significant unrest can cause this chain to break, in turn leaving companies without a reliable product pipeline.
Benefits of regular supply chain, supplier audits, and internal audits include:
Audits can help pinpoint areas of potential risk or instability across your entire supply chain. These might include ongoing production or shipping issues that may prove costly over the long term.
Supply chain audits also evaluate inventory, shipping, and accounting data to verify the amount of product received, the total price, and the overall quality. This provides a way to identify areas of possible fraud — for example, if suppliers are charging the agreed-upon price in your contact with them but are slightly under-delivering quantities each shipment.
Conducting an audit makes it possible to identify areas for potential performance improvement. This might include current logistics processes that take too long or are too costly, or issues with supplier product quality that are leading to returns.
Regular audits offer the chance to increase supply chain reliability. By producing a "map" of current supply chain interactions, endpoints and procurement processes, teams can identify bottlenecks that may be delaying shipments or creating stock level imbalances. Armed with this information, companies can implement new processes to increase overall reliability.
Robust and reliable supply chains are critical to boost company reputation, especially in a global purchasing environment now driven by online spending and ASAP shipping. Audits provide clear feedback on where your company is meeting consumer expectations and where more work is required.
Business change doesn't always come easy — and it's even more difficult without data. Supply chain audits provide the framework for internal change. By identifying key issues with both suppliers and internal processes, companies can develop strategies to drive business change over time and increase total ROI.
Reputation is everything in online sales and shipping. One of the first steps customers take is researching your company online — if results show consistent problems with shipping and delivery, consumers will likely avoid your brand. Audits give you the information you need to adjust processes and enhance your global reputation.
What is a Supply Chain Audit Report?
A supply chain audit report contains details about your audit findings. It provides a source of reference information for further supply chain decision-making and also helps inform the next supply chain audit you conduct to drive increased operational sustainability.
In practice, a supply chain audit report typically contains information about specific suppliers, their current processes and management systems, any recent delays or shortages, and an overview of your existing supply chain network. Using this audit report allows internal teams to pinpoint operations that may need tweaking or replacement to deliver optimal performance and also serves as a source of truth for supply chain options.
Consider a supply chain report which includes details about a specific supplier and their recent inability to meet product shipping and delivery deadlines. Using the report, your teams can pinpoint areas that may be negatively impacting your supplier and offer insight into potential avenues of remediation. This might include using a mix of different logistics providers or designing a new order process that gives suppliers more time to ensure they have enough stock on-hand. In cases where your company chooses to make the move to a new supplier, meanwhile, these reports provide the necessary data to support this decision in the event suppliers choose to challenge the decision. This is especially useful if you have an exciting supplier contract — if your report clearly demonstrates that they're not meeting their obligations under the contract, you may be able to nullify the agreement without penalty.
What is a Supplier Audit Program?
A supplier audit program leverages independent auditors to evaluate your suppliers on-site. These auditors attend supplier businesses at a predetermined time to assess current manufacturing processes, product quality, safety operations, and operational compliance. While it's possible to use in-house auditors for this task, it's often preferable to contact independent audit providers to ensure the interests of both parties — your company and your supplier — are fairly represented.
Supplier audits are an essential part of the larger supply chain audit process, and provide critical insight into front-line supplier operations and their adherence to any regulatory code of conduct. In addition to pinpointing suppliers that are outperforming the competition, these audits also provide a way for your company to minimize legal and reputational risk if suppliers are found in violation of safety or production requirements. For example, if an independent audit reveals that your supplier is cutting corners on worker safety or quality assurance, you can ask them to rectify these issues within a certain timeframe or face the prospect of losing your business.
Demonstrated knowledge of potential problems and efforts at resolution can improve fallout mitigation if working conditions result in staff injury or compliance breaches.
What is Risk-Based Supply Chain Auditing?
Risk-based supply chain auditing looks to identify, manage and eliminate risks that could undermine supply chain performance or result in non-compliance, and is often part of a large risk management program.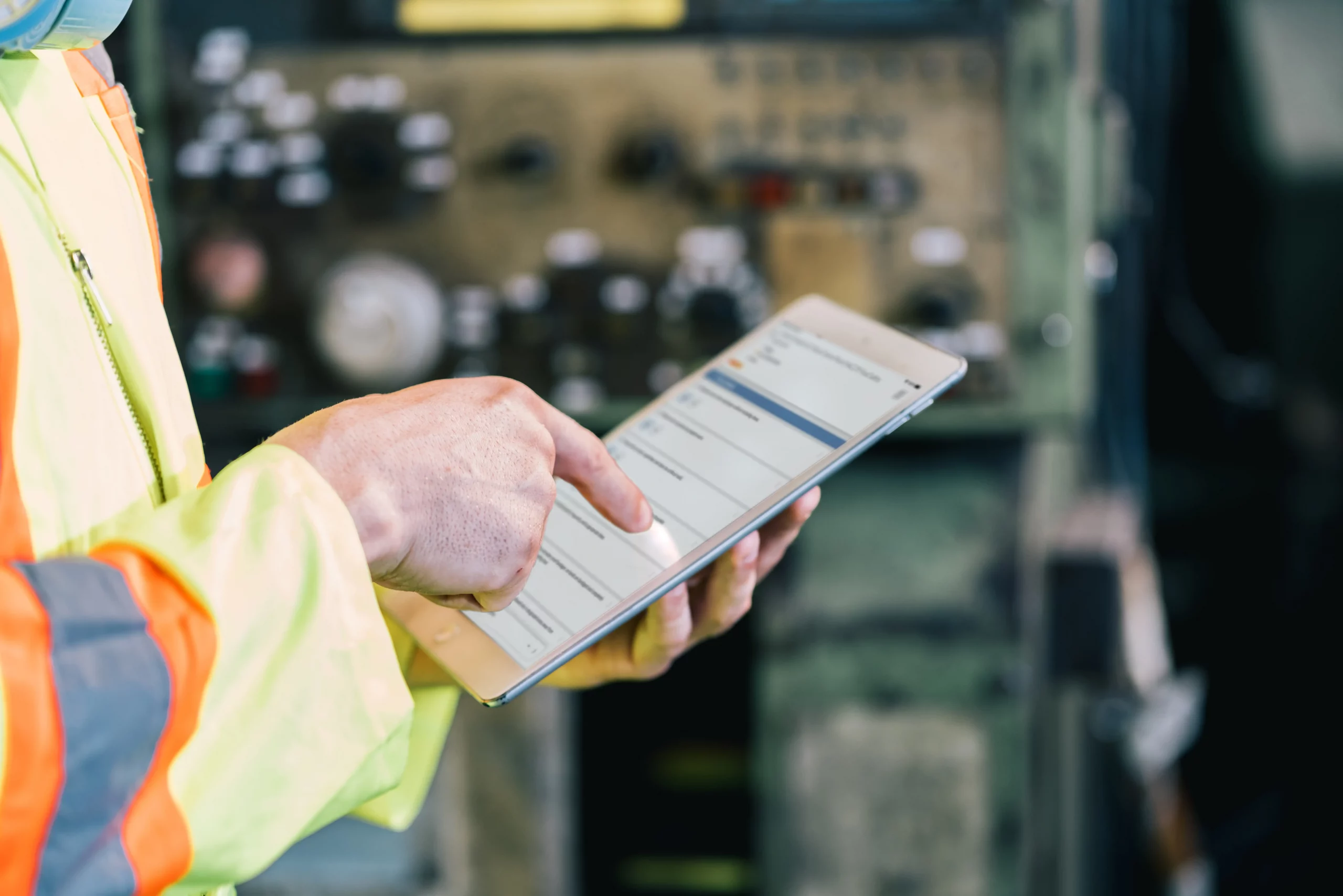 30+ Audit and inspection checklists free for download.
Three steps define the risk-based supply chain auditing process:
The first step in a risk-based supply chain audit is assessing business operations for potential risks and then evaluating the impact of these risks to your organization. Consider a supplier using an outdated production line tool. While it may currently be in working order, what happens if it breaks? Can it be replaced? How long will replacement take? How many people know how to effectively operate the machine? Assessment is the foundation for action.
The next step of this risk-driven process is managing risks by creating and implementing effective strategies. In the case of the production line tool above, this might include plans to have suppliers purchase an upgraded machine and get it up and running before the old one is decommissioned.
Finally, companies must review the impact of their risk management processes to see if they've been effective, and then reevaluate their efficacy with each new audit.
How can Supply Chain Audit Software Help?
While it's possible to conduct an audit without supply chain audit software, the process is often time- and labor-intensive. In addition, audit actions carried out by different staff members at different locations must be manually entered into company systems, in turn increasing the risk of missing, duplicate, or inaccurate data.
Best-in-class supply chain software can help streamline the process with features such as:
Compliance checklist creation
Create your own compliance checklists for environmental, social responsibility and governance (ESG) efforts across suppliers.
Deploy online supplier self-assessments across your entire network quickly and easily with a web-based portal.
Supplier self-assessments
Allow suppliers to conduct their own assessments and include photos, images, and documents to support their audit results.
Online review and evaluation
Let your team quickly review and evaluate self-assessment submissions online and in real time.
Easy issue identification
Quickly pinpoint supply chain issues and track the impact of corrective actions across your network to drive continuous improvement and promote responsible sourcing.
Staying Ahead of the Curve
Supply chain audits can help your company stay ahead of the curve by identifying issues and pinpointing problems with business partners before they lead to unexpected and potentially expensive outcomes. By leveraging supply chain audit reports, supplier audit programs and risk-based supply chain management under the umbrella of a superior supply chain audit software solution, it's possible for companies to understand what's happening now — and prepare for what comes next.
Improve audit operations and reduce supply chain risks with supply chain software from Certainty. Come see how we can help.
You may also be interested in:
DNV Selects Certainty As Their Global Supply Chain Management (SCM) Software Solution