Goodman Telecom Services (GTS) is a US-based technology service company that designs, builds, permits, engineers, and optimizes state-of-the-art wireless networks and provides cell site maintenance solutions for both wireless and wireline technologies.
With a workforce of over 400 telecom professionals and W-2 technicians, Goodman Telecom provides services to network operators, OEMs and enterprise clients and has completed over 130,000 5G/4G/3G projects and makes more than 60,000 cell site and central office service calls annually.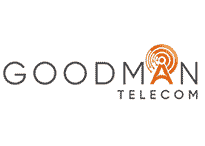 The Challenge
With a remote workforce, Goodman Telecom Services were looking for a safety software solution that could efficiently communicate with its technicians.
The Solution & Result
GTS use Certainty to conduct, report and manage safety inspections across its workforce in the field while maintaining cellphone towers and mobile network facilities.
"As a new customer to Certainty Software, it has been a eye opening experience. The ease of use to create a template and push out to the field is like no other software ever used. Changes can be made and updates performed in a live setting. This software allows companies from all sizes to gather information from the field with instant feedback. I recommend this software to all sizes of companies." Ted Luebbert, Training Manager – Goodman Telecom Service